Flexible Gravity Conveyor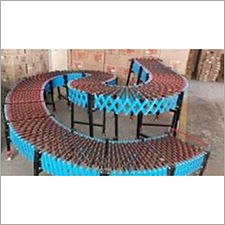 Flexible Gravity Conveyor
Price And Quantity
Product Specifications
Different Size Available

Metal
Product Description
A conveyor system that uses gravity to carry objects or materials over a flexible and expanded path is referred to as a flexible gravity conveyor, expandable gravity conveyor, or an accordion conveyor. It is frequently utilised in situations that call for movable or temporary conveyor systems, like truck loading and unloading, warehouses, or distribution centres.
Following are a few characteristics and advantages of flexible gravity conveyors:
Features:
1. Flexible gravity conveyors are designed to be expandable and contractible, allowing the conveyor length to be changed in accordance with the particular application's or the available space's needs. Typically, they are made up of a network of connected rollers or skate wheels that are fixed on axles.
2. Flexible gravity conveyors frequently have telescoping sections that can be expanded or contracted as necessary. These pieces offer flexibility in adjusting to various material handling conditions and are simple to modify to the necessary length.
3. Flexible gravity conveyors are often lightweight and portable, which makes them simple to move and reposition as needed. They frequently have folding or collapsible frames, making storage and travelling simple.
4. Adjustable Height: A lot of flexible gravity conveyors have features that let you modify the conveyor's height to a comfortable operating level for loading or unloading activities. This adaptability contributes to increased productivity and a decrease in worker weariness.
5. Flexible gravity conveyors are often built for rapid and easy assembly without the need for specialised tools, making for a simple and tool-free assembly process. They frequently include a modular design that makes installation and disassembly simple.
6. Directional Control: Some flexible gravity conveyors have multidirectional rollers or swivel casters, which make them easier to manoeuvre and offer directional control. This enables operators to smoothly steer materials around bends or obstructions.
Benefits:
1. Flexible gravity conveyors provide a smooth and regulated flow of goods or materials, enabling quick and effective material handling. They are extendable and retractable as required, reducing manual handling and speeding up loading and unloading.
2. Space Optimisation: Flexible gravity conveyors' ability to extend and contract makes them ideal for usage in loading docks, warehouses, and other locations used for material handling. When not in use, they can be compacted for storage and modified to match different lengths.
3. Ergonomic Workstations: Flexible gravity conveyors help create ergonomic workstations by enabling operators to adjust the conveyor's height. By encouraging appropriate posture and minimising strain during material handling duties, this helps to lower the risk of injuries and musculoskeletal problems.
4. Flexible gravity conveyors, which rely on gravity rather than motorised parts for movement, are frequently more affordable than powered conveyor systems. This may result in cost reductions for the initial investment, energy use, and upkeep.
5. Flexibility: Flexible gravity conveyors are versatile enough to transport a variety of goods or materials, such as boxes, cartons, packages, and loose goods. They are appropriate for a variety of businesses and uses, including e-commerce, retail, distribution centres, and logistics.
6. Quick Setup and Adaptability: Flexible gravity conveyors' easy, tool-free installation enables quick setup and flexibility in response to shifting material handling requirements. They are easily expandable or reconfigurable to support various workflows or designs.
7. Flexible gravity conveyors are safe and low-maintenance because they have fewer moving parts than powered conveyor systems, which means less frequent maintenance is needed and there is less chance of mechanical failure. To ensure safe material handling, they also incorporate built-in safety mechanisms such brake systems or stoppers.
Flexibility, portability, and efficiency are all features that flexible gravity conveyors offer for varying or temporary material handling applications. They are perfect for situations where flexibility, space efficiency, and usability are crucial due to their characteristics and advantages.
Trade Information
3000000-5000000 Per Day

10-15 Days
Asia Australia Central America North America South America Eastern Europe Western Europe Middle East Africa

All India