Flexible Roller Conveyors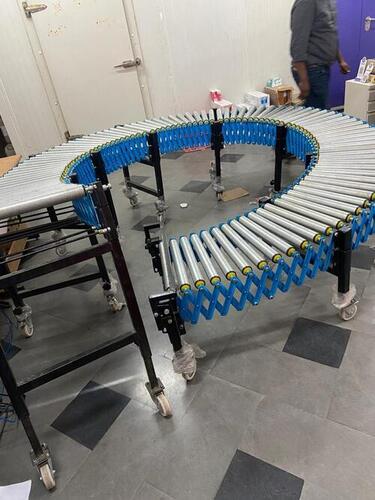 Flexible Roller Conveyors
Price And Quantity
Product Specifications
Roller Conveyors

50 Foot (ft)
Product Description
The effectiveness of roller conveyors is combined with flexibility and adaptability in flexible roller conveyors, sometimes referred to as expandable or telescoping roller conveyors. They are made to have customizable conveyor lengths, so they can be used in a variety of settings and applications.
The fundamental benefit of flexible roller conveyors is its flexibility, which makes it simple to adjust the conveyor length as necessary. They typically have a number of rollers installed on an extensible or collapsible frame. The conveyor may be extended or contracted to match the desired size and design thanks to the adjustable rollers, which come in various lengths.
Flexible roller conveyors frequently have scissor mechanisms or telescoping portions for simple expansion and contraction. When retracted, they are compact and take up less room for storage or transit. When expanded, they offer a longer surface for objects to be transferred.
Flexible roller conveyors have the ability to handle a variety of items, which is one of their benefits. Boxes, cartons, packages, bags, and other items of a similar nature can all be transported using them. The rollers make for easy manual or gravity-driven conveying and smooth movement.
These conveyors are frequently employed in situations that call for movable or temporary conveyor systems, such as truck loading and unloading, transferring objects between workstations, or setting up flexible assembly lines. In dynamic work settings where conveyor length or arrangement must frequently vary, they are especially helpful.
Flexible roller conveyors have a number of advantages, such as quick setup and installation, simplicity in reconfiguring, and effective use of available space. To ensure stability and dependability while operating, they are frequently constructed from hard materials like steel or aluminium.
Overall, flexible roller conveyors give material handling problems a flexible and adaptive answer. They are a well-liked option in sectors including distribution centres, warehouses, industrial facilities, and e-commerce operations because to its extensible and retractable form, which enables modification and simple integration into existing workflows.
Trade Information
Asia Australia Central America North America South America Eastern Europe Western Europe Middle East Africa

All India