PVC Belt Conveyor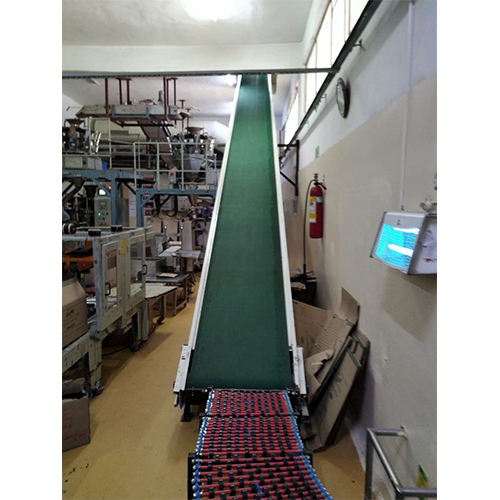 PVC Belt Conveyor
Price And Quantity
Product Specifications
Product Description
A PVC (polyvinyl chloride) belt is used as the conveying surface in a PVC belt conveyor, a type of belt conveyor system. It is a well-liked option for many industries because of its adaptability, toughness, and affordability.
These conveyors' PVC belts are constructed from a strong, flexible material that can endure the stresses of conveying operations. PVC material is built up in layers over a fabric or synthetic core, giving it strength and stability. For various application requirements, the belt is offered in various widths, thicknesses, and surface textures.
PVC belt conveyors have the following benefits:
1. PVC belts are versatile and may transport a variety of goods and materials, including light to medium-weight objects like boxes, cartons, bags, and parcels. Both horizontal and incline transporting applications are appropriate for them.
2. PVC belts are known for their strength and resistance to wear, making them ideal for workplaces with high demands. They are resistant to wear, impact, and difficult working environments, ensuring long-term performance and lowering upkeep needs.
3. Cleanliness and hygiene: PVC belts are easy to clean and maintain because they are non-porous. They are appropriate for sectors like food processing and pharmaceuticals where cleanliness and hygiene are crucial because they are resistant to moisture, oils, and chemicals.
4. PVC belt conveyors provide a cost-effective option for material handling requirements. When compared to other conveyor belt kinds, PVC belts are reasonably priced, making them a cost-effective option for enterprises.
Conveyors made of PVC can be modified to fit certain application needs. Various conveyor parts and accessories, including driving systems, supports, guides, and safety features, can be added to them.
These conveyors are extensively employed in a variety of sectors, including manufacturing, shipping, packaging, and airports. They are frequently used in processes including product assembly, packaging lines, sorting, accumulation, and storage.
In general, PVC belt conveyors offer a dependable and effective method of moving goods in a variety of businesses. They are a popular option for material handling operations because of their adaptability, toughness, and affordability.
Trade Information
Asia Australia Central America North America South America Eastern Europe Western Europe Middle East Africa

All India