Spiral Chutes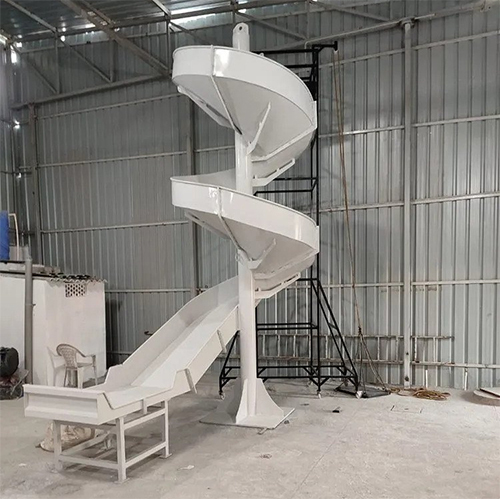 Spiral Chutes
Price And Quantity
Product Specifications
Product Description
A sort of gravity-based conveyor system called a spiral chute is used to carefully transport products or materials vertically. They are frequently employed in applications where it is necessary to move objects with regulated speed and orientation from an elevated level to a lower level.
A spiral chute's structure is made up of a long, narrow spiral tunnel or channel that round a central support column. Usually composed of reinforced metal or fibreglass, spiral chutes are strong and long-lasting. The chute's inside surface is smooth to encourage a continuous flow of materials.
Utilising the gravity principle, spiral chutes operate. Items are carefully pulled down the spiral pathway as they enter the top of the chute by gravity. The spiral chute's design and inclination provide controlled descent and velocity regulation, ensuring that goods arrive at the lower level without being damaged or moving too quickly.
Spiral chutes provide the following benefits:
1. Gentle Handling: The spiral form of the chute ensures that goods descend smoothly and steadily, reducing the possibility of breakage or damage. Spiral chutes can therefore be used to handle delicate or fragile goods.
2. Space Saving: In comparison to other conveyor systems, spiral chutes have a comparatively compact footprint. They are appropriate for installations with limited space because they offer a vertical conveying option that conserves horizontal floor space.
3. Spiral chutes can be modified to meet the requirements of a particular application. The performance of various products or materials can be optimised by adjusting variables including chute diameter, pitch, speed, and material surface.
4. Simple and Low-Maintenance: Because spiral chutes have a straightforward design and few moving components, they require little maintenance. They are simple to set up and use, and regular maintenance usually only entails cleaning and inspection.
Industries and applications that frequently use spiral chutes include logistics, e-commerce, manufacturing, warehousing, and distribution facilities. They work well for handling things like packages, letters, small parts, and loose bulk stuff.
Spiral chutes offer regulated descent, however they might not be appropriate for all kinds of items or materials. When assessing if a spiral chute is suitable for a given application, factors including size, weight, shape, and fragility must be taken into account.
Spiral chutes, in general, offer a dependable and effective solution for vertical conveying requirements, resulting in benefits such as gentle handling and space savings in material handling activities.
Trade Information
Asia Australia Central America North America South America Eastern Europe Western Europe Middle East Africa

All India