Spiral Powered Conveyors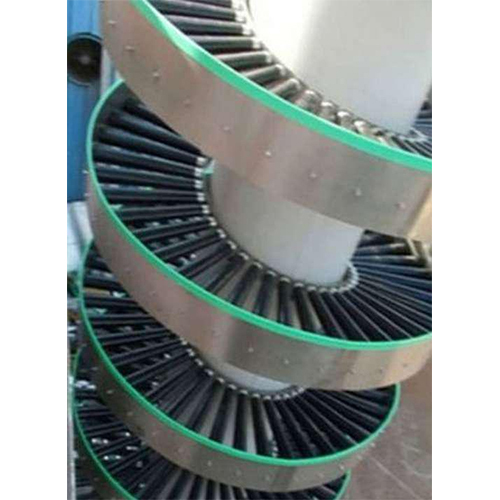 Spiral Powered Conveyors
Price And Quantity
Product Specifications
Spiral Powered Conveyors

Cast Iron
Product Description
A type of material handling equipment called spiral powered conveyors, often referred to as spiral conveyors or spiral elevators, uses a spiral arrangement to move objects vertically or horizontally within a small space. These conveyors are made to enable continuous, regulated item transportation while maximising space utilisation.
A central shaft or column supports a helical spiral track as the basic building block of a spiral driven conveyor. A continuous conveying surface is formed by the modular plastic or metal slats that make up the spiral track. The drive mechanism, which rotates the spiral track and moves the goods along the conveyor, is housed in the centre column.
The conveyor can carry goods between various altitudes or levels thanks to its helical design. The spiral conveyor can move items up or down in vertical applications, doing away with the requirement for conventional inclined or vertical conveyors. The spiral conveyor can save space in horizontal applications by using the vertical height to move objects in a round motion.
Spiral powered conveyors have the following benefits:
1. Spiral conveyors are renowned for having a more compact footprint than conventional conveyors. They are perfect for facilities with little floor space since they can use vertical space effectively and manoeuvre through confined spaces.
2. Uninterrupted Continuous Flow: The spiral design enables uninterrupted continuous flow of objects. The conveyor can be loaded at one end and discharged at the other while it is running, allowing for effective material handling.
3. Delicate Handling: Because of their smooth and controlled movement, spiral conveyors offer delicate handling of materials. This is especially useful for delicate or fragile things that need to be transported with care.
4. Versatility: A variety of products, including packaged goods, cartons, totes, bottles, cans, and more, can be handled by spiral powered conveyors. They can be incorporated into a variety of applications, including assembly lines, warehouses, and packaging operations.
Industries like food and beverage, pharmaceuticals, cosmetics, and manufacturing frequently use spiral driven conveyors. It is possible to alter their diameters, track widths, and speed settings to match particular needs.
In general, spiral powered conveyors provide a practical and compact answer to vertical and horizontal material handling requirements. They are a significant tool for streamlining processes and maximising space utilisation due to their constant flow, soft handling, and adaptability.
Trade Information
Asia Australia Central America North America South America Eastern Europe Africa

All India