Telescopic Belt Conveyor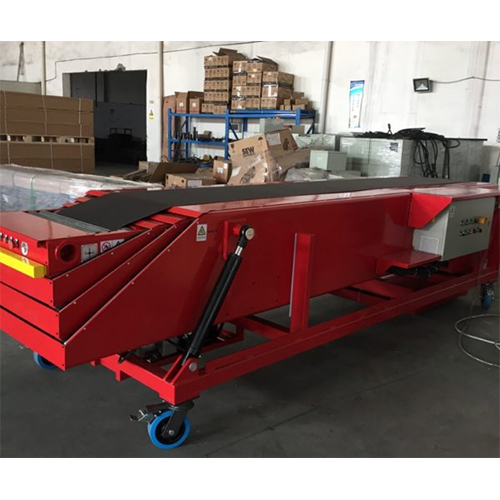 Telescopic Belt Conveyor
Price And Quantity
Product Specifications
22 feet, 40 feet, 32 feet Foot (ft)

Red
Cast Iron

Roller Conveyor
Product Description
A telescopic belt conveyor, often referred to as an extendable belt conveyor or a telescoping conveyor, is a kind of material handling machinery that employs a belt conveyor system that can be extended and retracted to reach various lengths. By extending into the proper position and retracting for storage or transportation, it offers versatility and efficiency in loading and unloading operations.
A fixed base portion, one or more telescoping sections, and a belt conveyor system are the three basic parts of a telescopic belt conveyor. The motor, drive system, and controls are all located in the base part, which is frequently positioned on wheels or casters for mobility. A hydraulic, pneumatic, or motorised system can be used to extend or retract the telescopic pieces, which are typically composed of steel or aluminium.
The telescopic belt conveyor has a small footprint when fully extended, which makes it simpler to store and move. The conveyor extends to provide a continuous surface for handling materials. A belt supported by rollers or slider beds runs the entire length of the conveyor in a belt conveyor system. From one end of the conveyor to the other, it effectively and smoothly transfers the products.
The following benefits of using telescopic belt conveyors in material handling operations:
1. Adjustable Length: The conveyor's capacity to expand and retract enables it to achieve a variety of lengths and adapt to a range of loading and unloading scenarios. It allows for effective loading and unloading of cargo because it can reach deep into vehicles, trailers, or containers.
2. Efficiency in Space: The telescopic belt conveyor can be folded up or retracted when not in use to save space requirements. In warehouses, distribution centres, and other facilities, this frees up important space.
3. Telescopic belt conveyors can improve worker ergonomics by lowering the amount of manual lifting, carrying, and reaching that must be done. They offer a constant flow of goods, reducing the physical strain on employees.
4. Time and Labour Savings: Telescopic belt conveyors' quick loading and unloading speeds boost productivity and throughput in material handling operations by saving time and labour.
In sectors including logistics, distribution, e-commerce, airports, and manufacturing, where effective loading and unloading of cargo is crucial, these conveyors are frequently employed. Boxes, cartons, bags, and loose objects are just a few of the many products they can handle.
In conclusion, telescopic belt conveyors provide an adaptable and effective answer for material handling jobs that call for variable conveyor lengths. They are a key asset in contemporary supply chains because they offer advantages for reducing space, improving ergonomics, and saving time.
Trade Information
Asia Australia Central America North America South America Eastern Europe Western Europe Middle East Africa

All India