Telescopic Conveyor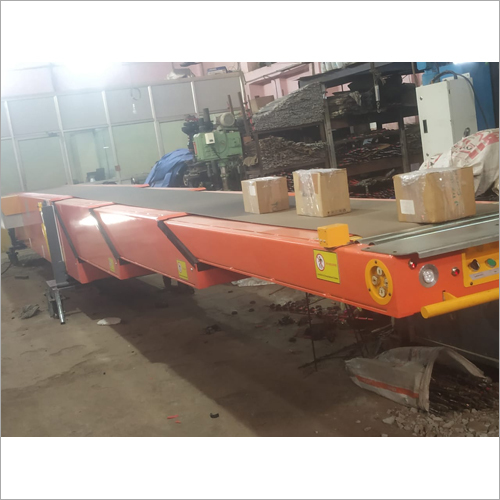 Telescopic Conveyor
Price And Quantity
Product Specifications
Product Description
A versatile material handling device used for the speedy loading and unloading of items from trucks, containers, or warehouses is a telescopic conveyor, often referred to as an extensible conveyor or a movable conveyor. It may be adjusted for length and flexibility in a variety of applications by extending or retracting as necessary.
The following are some telescopic conveyors' features and advantages:
Features:
1. The ability to expand or retract is a telescopic conveyor's distinguishing characteristic. It is made up of nesting parts that can be manually or mechanically stretched to varied lengths to meet various loading/unloading points or spatial needs.
2. Adjustable Height: Telescopic conveyors frequently have height-adjustable legs or an adjustable slope, enabling them to seamlessly transfer cargo by matching the height of various truck beds, containers, or conveyor systems.
3. Mobile Design: Many telescopic conveyors may be moved around a facility or between different sections since they are mobile and placed on wheels or rollers.
4. Variable Speed: Telescopic conveyors may have a speed control feature that enables users to alter the conveyor's motion to meet the required rate of loading and unloading or to coordinate it with other operations.
5. Durability and Load Capacity: To ensure durability and long-lasting performance, telescopic conveyors are normally built with strong materials like steel or aluminium. They are made to carry loads of different weights, such as light packets, heavy cartons, or bulk items.
6. Safety elements: To secure the well-being of operators and prevent accidents while in use, telescopic conveyors frequently have safety elements including emergency stop buttons, safety sensors, and guards.
Benefits:
1. Increased Efficiency: Telescopic conveyors eliminate the need for manual handling or additional equipment by extending directly into the container or truck bed during loading and unloading. As a result, turnaround times are shortened and operational efficiency is raised.
2. Space Optimisation: By reaching deep within containers or vehicles without the need for wide access spaces or additional equipment, telescopic conveyors conserve space. This promotes effective storage and organisation in warehouses and distribution centres and maximises the use of floor space.
3. Flexibility: Telescopic conveyors can be used in a variety of settings and sectors. They are suitable for a variety of material handling requirements since they can handle many product categories, including boxes, bags, parcels, and loose items.
4. Flexibility: Telescopic conveyors can be easily customised to match various loading/unloading points or spatial restrictions due to their flexible length. They may be extended or retracted as needed, making it possible to handle things effectively in a variety of situations.
5. Labour Savings: Telescopic conveyors automate the loading and unloading operation, requiring less manual labour and lowering the danger of accidents brought on by heavy lifting and repetitive motions. As a result, labour costs are reduced, and employee well-being is increased.
6. Improved Safety: Telescopic conveyors improve safety by lessening physical stress on employees, minimising mishaps from manual handling, and including safety elements to shield operators from potential dangers.
7. Scalability: Telescopic conveyors are easily expanded to meet expanding operational requirements or integrated into current material handling systems. It is possible to add or remove more sections to change the length or accommodate evolving work processes.
For loading and unloading operations, telescopic conveyors provide a versatile and effective solution. They also provide a number of advantages, including higher productivity, space optimisation, labour cost reductions, and greater safety. They can be used in a variety of industries and applications due to their flexible length and transportable design, which facilitates seamless material transfer with less physical labour.
Trade Information
3000000-5000000 Per Day

10-15 Days
Asia Australia Central America North America South America Eastern Europe Western Europe Middle East Africa

All India