Truck Loading and Unloading Conveyors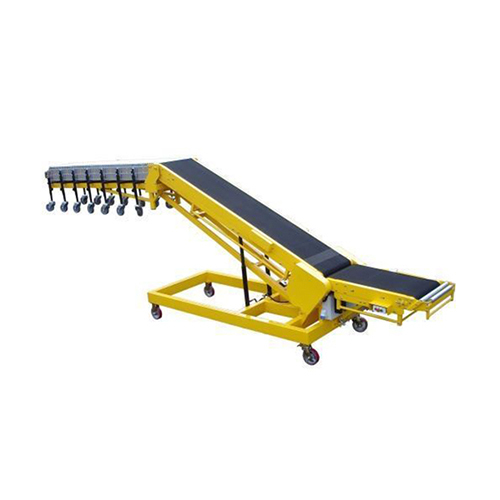 Truck Loading and Unloading Conveyors
Price And Quantity
Product Specifications
Product Description
The smooth transfer of goods between trucks or trailers and a loading dock or warehouse is made possible by the employment of specialised material handling equipment called truck loading and unloading conveyors. These conveyors simplify the loading and unloading of cargoes, increasing efficiency, lowering labour costs, and lowering the possibility of product damage.
Conveyors of several types are frequently used to load and unload trucks:
1. Belt Conveyors: Belt conveyors carry objects along a flat or angled path using a continuous loop of conveyor belt material. Including boxes, cartons, bags, and loose items, they can be utilised to transport a variety of goods. The flexibility of belt conveyors allows for customization to meet unique loading and unloading needs.
2. Roller Conveyors: To move objects down the conveyor surface, roller conveyors use a number of rollers. Depending on the use, they may be motorised or driven by gravity. Roller conveyors offer efficient and regulated movement during loading and unloading operations and are perfect for handling heavy loads.
3. Flexible Conveyors: Expandable and retractable, flexible conveyors, such as flexible powered or gravity conveyors, can be simply changed to the necessary length. They offer flexibility in positioning the conveyor for effective loading and unloading in circumstances where the distance between the truck and loading dock may change.
4. Telescopic conveyors, also referred to as telescoping conveyors, can be extended and collapsed to varied lengths. They are often combined with a vehicle or trailer or put on a transportable base. Conveyors with telescoping arms can be extended into the truck to make loading easier or retracted for storage or transportation.
Conveyors for truck loading and unloading provide the following advantages:
1. Time and Labour Savings: By streamlining the loading and unloading process, these conveyors cut down on the time and labour needed. They facilitate the speedy and effective transfer of commodities, boosting output and productivity.
2. Ergonomics: Conveyors help eliminate physical lifting and carrying by automating the transfer of items between the truck and loading dock, increasing worker ergonomics and lowering the risk of accidents.
3. The risk of damage during loading and unloading is reduced by the controlled and gentle transport of goods provided by conveyors. They make sure that everything moves smoothly and consistently, which lowers the chance of product damage or improper handling.
4. Flexibility and Adaptability: Due to the availability of truck loading and unloading conveyors in a variety of configurations, they may be altered to accommodate various truck sizes, loading dock arrangements, and operating needs. They offer versatility and adaptability in handling various items.
Conveyors for loading and unloading trucks are frequently used in sectors like transportation, logistics, distribution, and warehousing. By boosting operational productivity, cutting costs, and increasing efficiency, they are essential to supply chain optimization.
Trade Information
Asia Australia Central America North America South America Eastern Europe Western Europe Middle East Africa

All India