Truck Loading Conveyor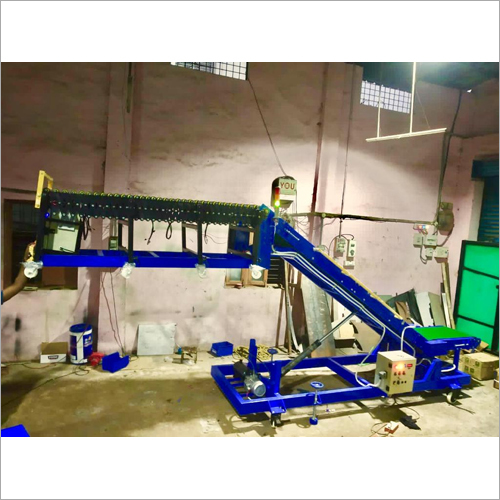 Truck Loading Conveyor
Price And Quantity
Product Specifications
Different Size Available

Industrial
Product Description
An efficient way to load or unload goods into or from trucks, trailers, or containers is to use a truck loading conveyor, sometimes referred to as a truck loader or loading dock conveyor. It streamlines the logistics process by making it easier to move products from the ground level to the elevated truck bed.
Here are some characteristics and advantages of conveyors for truck loading:
Features:
1. Height-Adjustable Legs or Incline Mechanisms: For seamless material transfer, truck loading conveyors frequently incorporate height-adjustable legs or incline mechanisms.
2. Telescoping Design: A telescoping mechanism is seen on many truck loading conveyors, enabling the conveyor to extend or retract as required. They can satisfy a variety of lengths or space needs because to their versatility and ability to reach deep within a vehicle or container.
3. Truck loading conveyors are frequently made to be portable and transportable and come with wheels or casters. This mobility enables simple positioning and movement, allowing for effective loading and unloading procedures at various locations or facilities.
4. Durability and Load Capacity: To ensure durability and support high loads, these conveyors are built using sturdy materials like steel or aluminium. They are made to carry a variety of loads, such as packages, boxes, cartons, and bulk commodities.
5. Truck loading conveyors frequently have variable speed control, enabling users to alter the conveyor's motion to match desired loading/unloading rates or to time it with other operations.
Benefits:
1. Enhanced Efficiency: Truck loading conveyors provide a direct and effective transfer of cargo from the truck bed to the ground level, streamlining the loading and unloading operation. As a result, turnaround times are shortened and operational efficiency is boosted because they do not require manual handling or additional equipment.
2. Labour Savings: Truck loading conveyors automate the loading and unloading operation, requiring less manual labour and lowering the danger of accidents brought on by heavy lifting and repetitive motions. As a result, labour costs are reduced, and employee wellbeing is increased.
3. Truck loading conveyors efficiently load or unload cargo into or from the truck bed to make the most of available space. This enables greater organisation and storage capacity in warehouses or distribution centres by removing the need for wide access areas, extra equipment, or manual movement.
4. Flexibility: Conveyors for truck loading are flexible and can handle a variety of products, including packages, parcels, bags, and loose materials. They are suited for a range of industries and material handling requirements because of their adaptability.
5. Safety Features: To safeguard the wellbeing of operators and prevent accidents while in use, truck loading conveyors frequently come with safety features including emergency stop buttons, safety sensors, and guards.
6. Flexibility: Truck loading conveyors are flexible in that they can accommodate various truck sizes, truck bed heights, and container kinds thanks to their adjustable height and telescopic construction. This versatility facilitates effective loading and unloading procedures in a variety of circumstances.
7. Scalability: Conveyors for loading trucks can be simply added to or integrated into current material-handling systems to meet expanding operating demands. To boost throughput, additional sections can be added or deleted, or numerous conveyors can be used concurrently.
Conveyors for loading and unloading trucks efficiently and ergonomically offer advantages including enhanced productivity, labour cost reductions, space optimisation, and greater safety. They are excellent for a variety of applications and improve the logistics process in warehouses, distribution centres, or loading docks thanks to their adjustable height, telescopic construction, and portability.
Trade Information
3000000-5000000 Per Day

10-15 Days
Asia Australia Central America North America South America Eastern Europe Western Europe Africa

All India