Warehouse Conveyors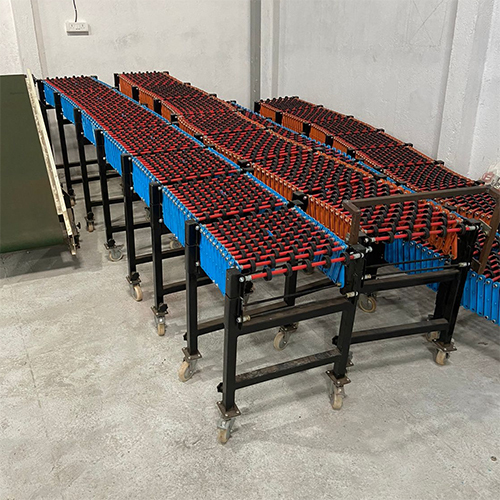 Warehouse Conveyors
Price And Quantity
Product Specifications
Industrial

Roller Conveyor
Live Powered

220-440 Volt (v)
Product Description
Modern material handling systems used in warehouses and distribution centres must include warehouse conveyors as a crucial component. These conveyors make it easier to move items around, improve workflow, and boost productivity in a warehouse setting.
Different kinds of conveyors are frequently used in warehouses, including:
1. Roller Conveyors: A frame-mounted set of rollers make up a roller conveyor. They are employed to move things about the warehouse effectively. Roller conveyors can be powered, using a motorised drive system to move the goods along the conveyor, or gravity-driven, relying on the force of gravity to move the items.
2. Belt Conveyors: Belt conveyors move cargo using a continuous belt. They can handle a variety of things, including boxes, cartons, packages, and loose items, and they are adaptable. To fit various warehouse layouts and requirements, belt conveyors can be horizontal, inclined, or declining.
3. Sortation Conveyors: Depending on specified criteria, such as destination, size, or weight, sortation conveyors are used to separate and sort goods. They often include pushers, rollers, or belts that direct materials into particular lanes or chutes. Conveyors for sortation automate the process of moving products to the right spots in the warehouse.
4. Accumulation Conveyors: Before things are processed or sent further, they are accumulated in temporary storage areas created by accumulation conveyors. They provide effective handling and a constant flow of products, avoiding congestion. Zones, photoelectric sensors, or other control systems can be used by accumulation conveyors to manage the flow of goods.
5. Goods are moved between multiple levels of a warehouse using vertical conveyors, sometimes referred to as vertical lifts or vertical reciprocating conveyors (VRCs). They offer a space- and money-saving alternative to traditional lifts and human lifting for transferring objects vertically.
6. AGVs, or automated guided vehicles, are autonomous mobile robots that can move objects about a warehouse. These vehicles have sensors and navigational systems that allow them to move through the warehouse and communicate with conveyor systems to ensure a smooth flow of materials.
Warehouse conveyors have the following advantages:
1. Efficiency Gains: Automating the transportation of items with conveyors lowers the need for physical labour and increases operational effectiveness. They reduce handling time and errors by enabling the swift and precise conveyance of goods.
2. Conveyors aid in space optimisation by utilising vertical spaces, establishing effective flow pathways, and minimising the need for wide aisles for manual handling.
3. Enhanced Safety: Compared to hand lifting and carrying, conveyors offer a safe and regulated way to move goods, lowering the danger of accidents. To ensure safe operation, they might be fitted with security components including emergency stop buttons, guarding, and sensors.
4. Warehouse conveyors are highly flexible and expandable, and they may be tailored to match particular warehouse layouts and operational needs. As the demands of the business evolve, they may easily be expanded or updated.
Warehouse conveyors are essential for streamlining expenses, increasing efficiency, and boosting overall warehouse operations. They are frequently utilised to enable effective handling, storage, and distribution of commodities in sectors like e-commerce, retail, manufacturing, and logistics.
Trade Information
Asia Australia Central America North America South America Eastern Europe Western Europe Middle East Africa

All India